By Andrew Garnett
The biennial Transports Publics show was always something of an eye opener to UK eyes and a great place to see the latest European developments with a distinctly French flavour. The successor to that show, the European Mobility Expo, was sadly forced to go online in 2020 as a result of Covid-19, but with the pandemic hopefully on the wain, the second edition saw over 11,000 visitors flocking to Hall 4 of the Porte de Versailles exhibition centre in Paris last week.
While very much an exhibition dedicated to all things European, there's still a Gallic air to proceedings – after all the organisers of the show are GIE Objectifs Transports, an organisation that brings together the French Transportation Authorities Association (GART) and the Public and Rail Transport Union (UTP). At the heart of the exhibition were the four very large stands of the French 'Big Four' – transport groups Keolis, RATP Dev and Transdev as well as French state rail operator SNCF. It's clear they were the big draw for many visitors and while the canapé-friendly Sancerre flowed as these groups reconnected with stakeholders after so long, there were talks, workshops and opportunities to network. Oh and gimmicks too – witness RATP Dev's tram simulator and Keolis's e-scooter simulator where intrepid delegates could wobble around a virtual streetscape (tremendous fun!).
Across Hall 4 it was clear there has been a revolution. While it was surprising there appeared to be only one autonomous vehicle on display (on the ZF stand), zero-emission buses dominated. Aside from a charming display of old Parisian buses by the Musée des Transports Urbains, Volvo's 7900 hybrid was the only diesel-powered bus on display, although the Swedish manufacturer claimed it was powered by 'biofuel'.
Closer to home Switch Mobility, formerly known as Optare, showed off its new European-flavoured E1 electric single decker which will be built at its new Spanish factory. Meanwhile, the winners of the European Talent in Mobility Awards were announced on the final day, Nottingham Express Transit's Laura Bartam, flew the flag for Team GB and was named 'Best Young Talent'.
European Mobility Expo highlights

Flying the flag for the UK was Switch Mobility. It displayed its new E1 electric single decker for the continental European bus market…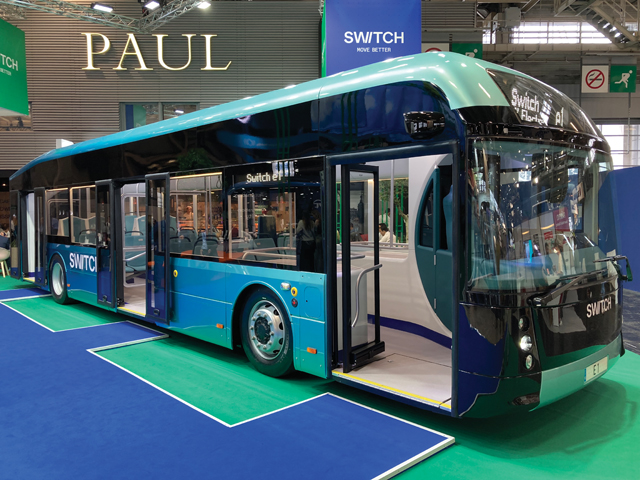 After going online-only in 2020 as a result of Covid-19, Over 11,000 visitors attended the European Mobility Expo at Paris's Porte de Versailles exhibition centre…


Looking rather chic was this Irizar ie trambus that will enter service in the French city of Orléans…


Laura Bartam, asset manager at Nottingham Express Transit was named best young talent at the European Talent in Mobility Awards…


The Musée des Transports Urbains had a small display of historic Parisian buses…


Surprisingly, the only autonomous vehicle on display was this pod from German conglomerate ZF…


A popular gimmick on the Keolis stand was this e-scooter simulator…


RATP Dev offered visitors a chance to test their tram driving skills with this simulator…


A clever innovation for the post-Covid era was this bell push from Conduent. The touchless Holostop uses a hologram image rather than a conventional button. The casing was designed by French sculptor and visual artist Richard Orlinski…


In wacky territory is the modular Cristal concept from Lohr which allows multiple vehicles to be coupled together…


There were numerous stands from cycle and scooter sharing companies…


This Mercedes Benz Citaro for Rennes had an interior dripping with colourful French flair…


Bye bye diesel? The only diesel hybrid at the show, albeit 'biofuel'-powered was this Volvo 7900…


The full story appears in the latest issue of Passenger Transport.
DON'T MISS OUT – GET YOUR COPY! – click here to subscribe!