Transport Focus finds 16% travelled by public transport in the last week, up from 12% a week earlier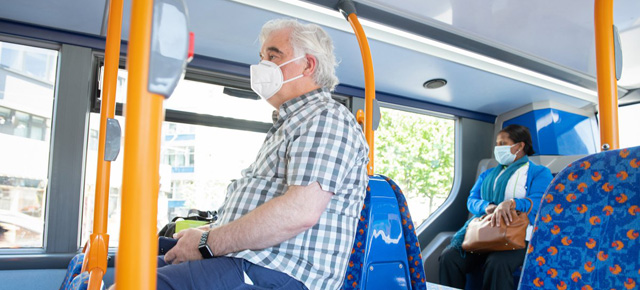 Seven in 10 agree that they will feel safer using public transport if passengers wear face coverings

New research released by Transport Focus has found that public transport use increased by the highest amount over the last 7 days than any other period since the start of the lockdown.
Of the 2,000 people probed by the watchdog, 16% reported they had travelled by public transport in the last week, up from 12% the previous week.
11% reported they had travelled by bus, up from 8% a week earlier. The proportion travelling by rail was 6%, up from 4% in the previous period.
Breaking down these figures, 8% travelled on a bus outside London, up from 5% a week earlier and train travel outside the capital also grew from 3% to 5%. In London, those travelling by bus remained static at 4% while Tube and train travel also remained static at 3% and 2% respectively.
Six in 10 reported they had driven in the last week and half made at least one journey on foot.
Travelling to shops for essentials or groceries was the most common reason for making journeys in the last seven days (77%), while 29% travelled to or from a place of work. A further 23% travelled on other personal business, such as to the doctor, bank or hospital.
Perhaps more worrying for the sector was the reasons not to use public transport.
While half said they had no reason to use public transport, almost three in ten didn't use public transport because they don't feel safe to do so. 28% reported they have been avoiding public transport. It means that one in five walked for journeys rather than using public transport and a third drove rather than take the bus or train.
Three in five also disagreed that they will make more journeys by public transport as more businesses open up.
Seven in 10 agree that they will feel safer using public transport if passengers wear face coverings and 48% said they would accept reduced social distancing as long as passengers are wearing face coverings.
Meanwhile further data from the Office for National Statistics' Opinions and Lifestyle Survey released today sheds light on the charing working patterns of the UK population.
Between July 29 and August 2, 76% of working adults reported they have either worked at home or travelled to work this week, 25% of them worked exclusively at home.
Meanwhile, almost all adults (96%) who had left their homes said they had worn a face covering to slow the spread of the coronavirus, an increase from 84% last week and 71% the week before.

Get the latest news delivered to your inbox. CLICK HERE to subscribe to our e-newsletter.