The pandemic's effects on bus, tram and rail use have been dramatic and will lead to significant changes for passenger transport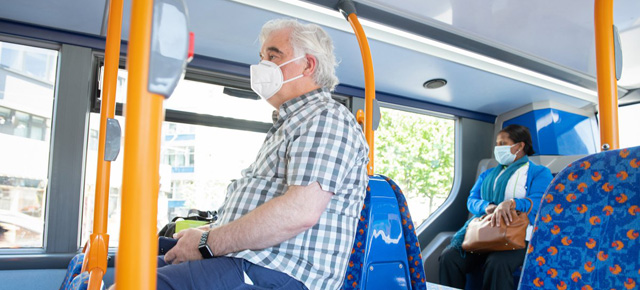 There are likely to be profound effects on how, when and why people will use passenger transport services

The pandemic's effects on bus, tram and rail use have been dramatic. Traditionally, assessments for new developments and a host of other transport planning activities focus on the peak periods when demand is at its highest. The common pattern is that the morning peak hour is 08:00 to 09:00 when people go to work with children going to school. The evening peak, generally return journeys from the morning movements, focuses on 17:00 to 18:00 but tends to be more spread. Thus the capacity requirements of passenger systems are determined, providing for peak demands but having an over-supply in the inter-peak period and evenings. There are many variations on this such as earlier morning journeys, more post-peak journeys, weekend shopping peaks and longer evening peaks. Now we have a new phenomenon – the evening peak can be greater than the morning peak.
Traffic data is collected continuously in many locations. This provides a reliable count of vehicles from which we can deduce likely destinations and journey purposes. In the covid-19 economy, there was an initial demolition of all travel demand leaving essential journeys only. This moved on to a resurgence of car traffic, helped by government advice not to use passenger transport, lack of socially distanced capacity on trains and buses, safety fears about infection and other influences such as fuel prices. What has become evident is that for the first time, evening peak traffic can be greater than morning peak traffic; the latter having largely subsided for now at least. This phenomenon is worth considering in more detail because some of the effects may be with us in the longer term. Road capacity is still regarded as being a peak period definition even though many roads are quiet or empty for the majority of the day.
Not going to work
Firstly, many peak journeys are associated with work, either getting to the usual workplace or somewhere else related to work such as a site visit, customer/client visit or meeting venue. We know that demand exceeds supply on a regular basis with overcrowded trains and traffic congestion. This is a consequence of road and rail capacity being finite and demand increasing over time. However, the quantity and type of work-related journeys have changed which affects time of travel, destinations and whether or not journeys are made at all. Regarding quantity, we know that the pandemic and subsequent economic impacts have reduced the number of jobs, affecting some passenger transport journeys, particularly bus users who tend to have lower incomes but also rail commuters. The upside of this is that there should be some relief of overcrowding but the expected revenue will be far less than that planned for, particularly peak revenue when fares are highest.
There should be some relief of overcrowding but the expected revenue will be far less than that planned for
Working at home has taken a grip; many more people are being supported to work at home rather than in offices and similar. This is likely to account for part of the dip in morning peak period journeys with people travelling later in the day or not at all. Working patterns will change with a greater recognition of part-time workers, more flexibility for site-based jobs and fewer work-related journeys. Having meetings, for example, doesn't involve going anywhere if the internet is available and has many positives for businesses such as reduced costs and wider participation regardless of location.
Education journeys are difficult to predict currently with many more children becoming part-time attendees or transferring from the school bus to car, courtesy of their home-based parents. Even university courses are starting online so once students have settled wherever they need to be, many activities will not require physical attendance. While school appears to be voluntary at the moment, there are still many uncertainties about what September will bring in terms of social distancing in schools and on the way there. Everyone blames traffic congestion on school traffic on the basis that the congestion they are sitting in is someone else's fault. Regrettably there may be fewer school buses given that there will be fewer operators than before. Providing sufficient capacity may require more vehicles and drivers, if the costs can be covered. Staggered school hours may ease this with buses fitting in double-runs where possible and where the additional costs can be justified.
Shopping or non-essential journeys
Shopping journeys are not as essential as they used to be. With home deliveries of basics and many extras, life is survivable without going anywhere. As discussed in the previous issue, the location of shopping is changing with a potential new role for high streets and local activities. At one time there were regular coach excursions to Milton Keynes and similar shopping offers, a concept that now seems odd in a car-dominated culture. As shopping forms a large part of bus demand, services need to adapt.
Traditional coach excursions could fade into history and the demise of coach holidays… may be inevitable
Another large journey purpose is leisure, ranging from trips to beaches and countryside to specific attractions and visiting friends or relations. Some of this is undertaken by passenger transport, trains and coaches for longer distances and buses where a car is not available. This too has taken a big hit with visitor attractions being closed and those that are open having a cap on the number of people allowed at a given time. Traditional coach excursions could fade into history and the demise of coach holidays, as Shearings and others have demonstrated, may be inevitable as long as the pandemic persists. Other areas of activity such as cruises and airports to which coaches delivered holidaymakers have all gone away plus major events and other regular destinations.
Charting a course
What all this means is that there are likely to be profound effects on how, when and why people will use passenger transport services. In turn this has an effect on the supply side. Allied to this is the temporal aspect with different scenarios in the immediate, medium and longer term scenarios. There may be aspirations that in the longer term, new normal will be much like the familiar old normal but it probably won't be. We talk about buses as being a flexible response to travel demand but often services have changed little over many years. The current pandemic should enable providers to re-think what they are doing and come up with something better. If there is less demand for journeys to work, should services change? The location and quantity of offices is likely to change and other industries could relocate or diminish. Would these routes be different to interpeak services? Potential alterations could include bus times to better accommodate shift changes at hospitals and similar or support the evening economy for the hard hit drinking/eating and hospitality sector.
Regrettably the latest noises from government seem to retain massive road construction proposals
For railways, being dependent on infrastructure involves a long lead time between identifying capacity constraints and upgrading; we may be creating capacity that won't be needed or overlooking areas that need attention. This has been a feature of railways historically in which supply and demand never keep pace with each other, even without global disruption. New behaviours have implications for pricing with the peak 'shoulders' – earlier trips and post-peak trips – becoming more prominent with workers actively avoiding high peak fares and congested trains.
Thinking of longer term aspirations, we hope that government advice will have u-turned to active promotion of passenger transport, linked with an understanding of how to manage the demand for car travel. Regrettably the latest noises from government seem to retain massive road construction proposals in a misguided effort to build our way out of recession. Once more a credible transport policy is elusive for fear of upsetting anyone and to retain jobs in car manufacturing and its supply chain. Contrast this with links between the pandemic and the economy, sustainability and route to Net Zero. The uncomfortable likelihood is that the opportunity for betterment will be squandered in favour of short term gain or at least short term economic recovery. With the right decisions and investment, passenger transport and particularly the bus and coach sector can move into an era of growth; until then, it will need careful nursing.
Key components of the new bus strategy must include passenger transport at the core of planning policy with a concerted effort to achieve cleaner air, managed urban growth and restoration of a healthy economy.

ABOUT THE AUTHOR: Nick Richardson is Technical Principal at transport consultancy Mott MacDonald, a Director of the UK Chartered Institute of Logistics and Transport (www.ciltuk.org.uk), Chair of CILT's Bus and Coach Policy Group, Chair of PTRC Education and Research Services Ltd and a former Chair of the Transport Planning Society. In addition, he has held a PCV licence for over 30 years.

Get the latest news delivered to your inbox. CLICK HERE to subscribe to our e-newsletter.