£25,000 distributed to a range of good causes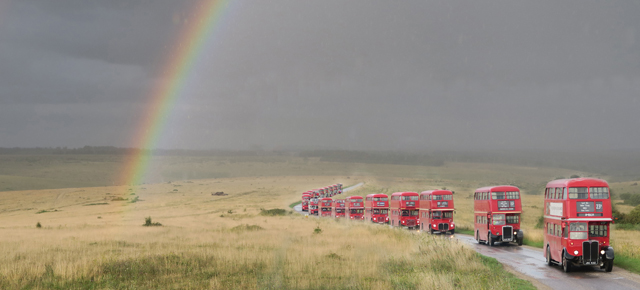 The buses that took part in last year's event

After a record breaking Imberbus in 2019, the funds raised have now been distributed to a range of good causes.
Imberbus began on Saturday 5th September 2009, after lengthy negotiations with the MOD at a very senior level. Bath Bus Company was permitted, with the cooperation of several other operators, Transport for London and Wiltshire's transport department, to operate a bus service from Warminster to the village of Imber and other points on Salisbury Plain.
The village is no longer inhabited as the residents left just before Christmas 1943, in order to step up military training so D-Day could be a success. 77 years on Imber is still uninhabited, many of the buildings, apart from the lovely St Giles's church, having been damaged, destroyed or replaced. It remains in use for army training. However, the connecting road is open to the public on a limited number of occasions each year for access to St Giles's and the village site, one such occasion being selected for the one-day bus service.
2019's Imberbus was held on August 17. The event was blessed with dry weather and had the biggest turn out of both members of the public and bus enthusiasts alike. Sir Peter Hendy CBE, chairman of Network Rail and the former Commissioner for TfL, was in attendance and at the forefront of this operation, along with several UK bus operators contributing buses and crews including Stagecoach, Arriva, Go-Ahead, Tower Transit, Abellio, First and Ensignbus. As before, the whole operation was provided on Bath Bus Company's O-licence.
A total of 28 classic and new Routemasters operated the basic 30-minute bus service with many duplicate buses provided to meet demand; the service having gradually grown each year since 2009.
The event raised approximately £25,000 from fares taken on the day, a record amount, with the following charities benefitting: Friends of St Giles's Church Imber, Royal British Legion, Macmillan Cancer, RNLI, Salisbury Stars Hospital Appeal, Prostate Cancer, British Red Cross, Diabetes UK, Salvation Army Trust, Action for Children, Deafblind UK, Guide Dogs for the Blind and Purfleet Heritage Centre. Each of these were nominated by the bus companies involved.
In addition, the communities at Tilshead and Chitterne gained income from selling refreshments at their village halls, as did the Market Lavington Museum.
Because of the coronavirus pandemic, Imberbus will be taking a break in 2020, but will be back next year. The date is yet to be confirmed but for regular updates, visit www.imberbus.org.

Get the latest news delivered to your inbox. CLICK HERE to subscribe to our e-newsletter.