5,000 users report their observations in Transport Focus probe

Research by Transport Focus has found that a significant number of season ticket holders on both bus and rail networks have attempted to claim a refund as a result of the coronavirus pandemic.
Earlier this month the watchdog send an email to 15,808 people on its Transport User Panel, asking them to complete a survey regarding their travel in the previous seven days. The survey also asked panellists about their recent experience in attempting to claim a refund on previously purchased season tickets.
A total of 5,791 panellists responded to the questionnaire and it reveals that 46% of them had not made a single trip. Of these 88% said their reason for not travelling was following government instructions not to travel.
80% of those who made journeys by train found it easy to find information on what was running. Those who made journeys by bus found it similarly easy (79% inside London and 77% outside the capital).
However, a majority of panellists who usually hold a season ticket and who usually work full or part time, or who are students (i.e. those that are most likely to commute) have not attempted to make a claim for a refund.
Just 10% of bus, 21% of multi-modal and 31% of rail season ticket holders said they had attempted to receive a refund.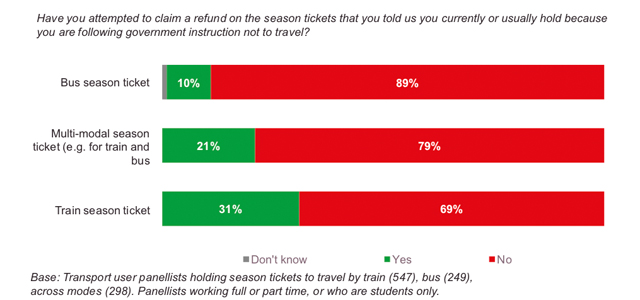 Panellists indicate several reasons for not attempting to claim a refund. Around 20% generally say that they were not sure that they could, while around 10& are not sure how to go about doing so. Transport Focus say in each case these are issues that could be resolved by the transport operator.
The comments of enlists in this area were also illuminating. While passengers of municipals Nottingham City Transport and Reading Buses reported that receiving a refund or freezing their tickets was a straightforward process, some passengers of big groups reported issues.
It hasn't been advertised. Found out by chance. Also it's a pause rather than refund… Just sent photo of cut up card. It was easy, but it's mad to think they can't remotely stop the card so I can use it again instead of ordering a new one once this is all over
Stagecoach annual season ticket holder
They tell me their terms and conditions don't allow refunds, and the fact they are providing a very limited service that I am not allowed to use does not change their terms and conditions
First Bus annual ticket holder
No information online, had to email to ask, wait for a reply, which I have now received… I do not expect a positive outcome. I would like to know why bus companies have not already offered this to season ticket holders like the train providers
Annual ticket holder, First Bus
Meanwhile, those who have attempted to claim a refund for their rail season ticket have had a mixed experience too.
40% of panellists who are most likely to be commuters and who have attempted to make a claim for a refund on their rail season ticket say that they have been awarded some level of refund. 10% say they have not been awarded compensation, while 50% are awaiting a decision.
Whether they received a refund or not, findings indicate that these panellists have had a somewhat mixed experience when making a claim. Just 59% said it was an easy process to find out how to make a claim while 62% reported the process was easy to navigate.
Many of those who found it easy completed an online form or held a smartcard. However, some rail season ticket holders had problems finding information about how to claim or the value of the refund they may receive.
Some also reported being disappointed by the refund calculation or objected to paying an administration fee, while others felt uneasy at having to visit a station to receive a refund at a time when the official government advice is to stay at home.
I have not found a way of claiming a refund for my season ticket which is loaded onto my Smart Card and purchased through TPExpress' website. TPExpress directs to National Rail, and National Rail directs back to TPExpress website
Annual ticket holder, TransPennine Express
There was a £10.00 'administration fee'. Wasn't too happy about that!!!
Monthly ticket holder, Greater Anglia