Buses with Euro 6 diesel engines are the best way of tackling air pollution in Britain's cities, says First's John Dowie. Rhodri Clark reports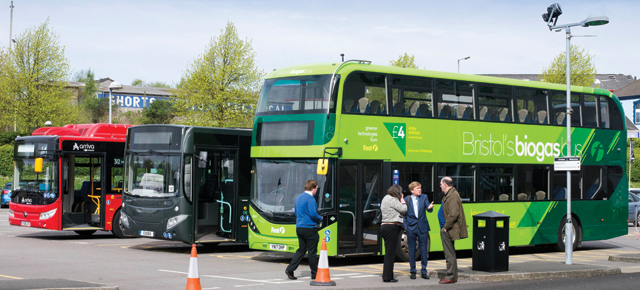 Low emission vehicles on show at last week's Welsh Bus Summit
Buses with Euro 6 diesel engines offer the best bang for the buck for authorities requiring rapid improvements in air quality, according to John Dowie of First.
Dowie was speaking to Passenger Transport at the Welsh Bus Summit in Swansea, where a range of alternative fuel vehicles were on display, and trade stands highlighted the benefits of biogas.
"Hydrogen is still eye-wateringly expensive at the moment," said Dowie, who was a high ranking Department for Transport civil servant before becoming director of local strategies at First Bus in 2016. And he said electric buses looked like the future, with a "phenomenal" amount of international research devoted to improving the technology, which had not yet matured.
"Really the best way of tackling air quality emissions now in the cities – Cardiff and Caerphilly have been directed to look at those issues – is Euro 6. Whether that's new or retrofitting doesn't matter.
They [cities] should be talking about how to get the most modern fleet of Euro 6 vehicles in the shortest period of time. In Leeds, we're on target to get to a compliant Euro 6 fleet by 2021. That's for a big city
"They [cities] should be talking about how to get the most modern fleet of Euro 6 vehicles in the shortest period of time. In Leeds, we're on target to get to a compliant Euro 6 fleet by 2021. That's for a big city."
Dowie also said congestion was a major factor in urban air pollution, and increasing bus speeds would help to reduce emissions. However, he acknowledged the political difficulties with restraining car use in polluted areas.
"I think there's a lot of scope in boiling the frog," he said. "You don't go out to your motorists and say, 'For the greater good we're going to make it really expensive or difficult for you to park and generally treat you as a bit of a pariah in society. That's not going to get a good reaction."
He advocated progressive environmental changes so that it becomes a little more expensive or a little more difficult to park, with people shifting to public transport. Quite a number of authorities had taken this approach, said Dowie.
Daniel Hayes, of the Low Carbon Vehicle Partnership, gave the summit audience a run down of the pros and cons of various alternatives to diesel buses. He also said: "It's not just about the technology and fuels, it's also about getting more bums on seats, especially in cities."
The Welsh Government has never provided funding to help bus operators buy low emission vehicles or retrofit pre-Euro 6 buses. Welsh transport secretary Ken Skates told Passenger Transport at the summit venue: "We're still looking at how bus companies in Wales can take advantage of UK government spend. I don't want to replicate programmes if money can be drawn down from UK government."
He said funding for low emission buses could be available through the forthcoming Economic Action Plan. Bids would have to meet four criteria, one of which was decarbonisation. The others were a commitment to fair work, potential for growth (direct or in the supply chain) and commitments to improving health and skills in the workplace.
The UK government is encouraging bids from Wales for the next Low Emission Bus Scheme, which includes Wales for the third time. However, all Welsh bids have previously been rejected except for a small scheme to deploy four electric buses in rural Denbighshire, where operators have reported the technology as being unsuitable (PT179).
Some delegates at the bus summit were pessimistic, pointing out that years of England-only grants from the UK Government had left Wales too far behind in terms of bus fuelling and recharging infrastructure, with English bids able to show stronger business cases by focusing the proposed funding on additional vehicles to exploit established infrastructure.
This month Cardiff Bus will begin a trial of a Volvo electric bus on its flagship route between Cardiff Bay and the city centre. The route connects two Welsh Government office sites and also serves the city council offices.
This article appears in the latest issue of Passenger Transport.
DON'T MISS OUT – GET YOUR COPY! – click here to subscribe!