Former transport secretary has blunt message for rail bosses – the public doesn't like you, you're paid too much and it's time to 'eat humble pie'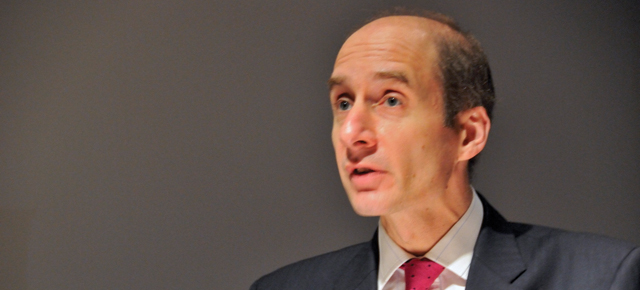 Lord Adonis: pictured here during his time as secretary of state for transport
A former secretary of state for transport, Lord Adonis, has urged the rail industry to take action to improve its reputation in the eyes of the general public. Britain's private rail companies have become "a byword for rapaciousness and profiteering", he warned, and the salaries of top rail bosses should be "halved" in order to win public support.
Adonis, who is chair of the government's National Infrastructure Commission, made the remarks in an address to the annual lunch of the Institution of Railway Operators in London last week. The former key adviser to Tony Blair who served as transport secretary for the final 11 months of the last Labour government in 2009-10 is not known as a critic of the privatised rail industry. He said that he was speaking as someone who has "gone into bat" for the rail industry many times over the past decade.
"We have a railway that fundamentally works," he argued. "It delivers the largest number of passengers to their destinations than it's ever done at any time in its history. It's more efficient than it ever was. It's now largely a byword for things that work."
He said that rail privatisation had intensified efforts to grow passenger numbers, but he observed that the rail industry's stock among the public has not risen in line with patronage.
"What hasn't been a success unfortunately, speaking completely frankly, is the reputation of the private companies," he said.
Private rail companies are a byword for rapaciousness and profiteering.
"Private rail companies are a byword for rapaciousness and profiteering."
Adonis said that the industry's reputation was "almost on a level with politicians and journalists – and that's all you need to know".
He continued: "If you look at the last two or three years, unfortunately it's got a lot worse – because the public now associates all of the problems on Southern as being the fault of the private rail operators."
Adonis, who resigned the Labour Party whip in the House of Lords in October 2015 when he agreed to lead a newly created National Infrastructure Commission, said that Labour's pledge to renationalise the railways had chimed with voters in the election campaign. He said the public had been seduced by the Labour leader Jeremy Corbyn's line that after renationalisation "there will be none of this profiteering and miraculously the dispute at Southern will go away".
Adonis pointed out that in the subsequent election some of the largest swings against the Conservatives in the South of England were in areas with large numbers of Southern commuters.
The Tories surrendered Croydon Central to Labour and Eastbourne to the Lib Dems. And the 4.1% swing against transport secretary Chris Grayling in Epsom and Ewell was typical in seats retained by the party across Southern's territory.
Politicians would consider how to respond to that, he said, but he also urged the rail industry to heed the message.
Offering his own remedy, Adonis concluded: "If we could get things in the right place, we would carry on with [transformational] investment.
"We would carry on with the great work that you are doing in building a quality service.
"We would wave a magic wand and the Southern dispute [would end].
"We would halve the salaries of the people who actually run the private railway companies.
"We would have the owners eat humble pie and say we've got it wrong in terms of the profit levels and surcharges in the industry.
"Then we'd have a lovely and adoring public and all would be well for the next 15 years."
Asked by Passenger Transport whether he had been talking tongue in cheek, Adonis said: "No, I meant it!"
Responding to Adonis' remarks last week, former Lib Dem transport minister Norman Baker offered a different view. Baker, who served as a DfT minister between 2010 and 2013, said the root of the rail industry's image problem is its failure to sell rail as "a generic concept", which has not been done since the days of British Rail.
"When I was rail minister I urged ATOC to embrace this idea, but they failed to do so," he told Passenger Transport. "Rail has many advantages over road or air, but it has been left to pressure groups and politicians to make the case. Rail is often quicker, greener, more reliable and certainly more comfortable and convenient than a car in a traffic jam or the interminable delays at airports, but where has the rail industry been? The failure to market rail generically means individual companies are naked when something goes wrong in their patch."
Related coverage in this issue of Passenger Transport: 
Alex Warner: Some rail bosses are paid too much, but not all
A gap has emerged in recent years between the top brass and the middle managers who keep the railway running
This article appears in the latest issue of Passenger Transport.
DON'T MISS OUT – GET YOUR COPY! – click here to subscribe!