Almost 100 finalists have made the shortlist for this year's prestigious UK Bus Awards, with the winners to be announced on November 23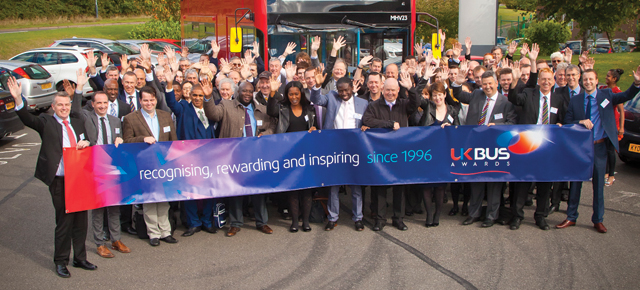 Over 100 industry representatives gathered at the Volvo Technical Centre in Warwick to hear this year's UK Bus Awards Finalists
Go-Ahead has received the highest number of shortlisted entries for this year's prestigious UK Bus Awards.
It was revealed last week that the London-based group has received 17 shortlisted entries, ahead of its peers Stagecoach (12), Arriva (10) and FirstGroup (10).
The Group's Metrobus, Oxford Bus Company and Poole-based Go South Coast subsidiaries are among the 16 companies that are vying to win the coveted 'UK Bus Operator of the Year' prize – which is currently held by council-owned Reading Buses, which itself has been shortlisted for the award. As usual, the winner will be selected from the winners of the City, Shire and Independent operator categories.
The three Go-Ahead companies face a tough battle in the 'Shire Operator of the Year' category, where they are shortlisted alongside not only Reading, but also Stagecoach East Midlands.
Meanwhile, in the 'City Operator of the Year' category, Arriva Merseyside, Lothian Buses, National Express West Midlands, Nottingham City Transport, Stagecoach Merseyside and South Lancashire and Translink Metro have been shortlisted.
In the 'Independent Operator of the Year' category, Compass Travel, Courtney Buses, EnsignBus, Prentice Coaches and Uno Northampton are vying for the top prize.
Last week over 100 industry representatives gathered at the Volvo Technical Centre in Warwick to celebrate being named as finalists in this year's competition. The 99 finalists were selected from more than 250 entries, across 20 categories. The event highlighted outstanding achievements, ground-breaking projects and outstanding examples of the service provided by the industry's staff.
The finalists were selected following a rigorous process of judging – bringing together over 40 independent expert judges. Following mystery traveller checks to make sure bus services, drivers and depots match the star quality of their entries, the winners will be announced at a glittering ceremony in London on November 23. The ceremony will take place at The Ballroom on London's South Bank.
Tony Depledge, chairman of the UK Bus Awards praised the quality and range of finalists as being a credit to the industry.
"Across all award categories, our judges have seen an impressive range of entries that tackle new challenges, research new customer needs and build on past success," he said. "This is an industry that can be proud of its work – and we're happy to showcase that to inspire our whole sector to roll out great ideas to benefit customers and communities across the UK.
"Our finalists have really impressed us with their star quality. I wish them all every success at the 21st UK Bus Awards ceremony in November."
The awards, now in their 21st year, are designed to recognise and reward the achievements of the industry.
2016 FINALISTS – THE FULL LIST
Bus and the Community Award
Disability Awareness, Blackpool Transport Services
Helping Hand, Brighton & Hove Bus and Coach Company
Big Bus Day, East Yorkshire Motor Services
First Bus in the Midlands and Trussell Trust Foodbanks, First Bus – Midlands
First Essex supporting Michael Birch and Essex Air Ambulance, First Essex
Skegness Seasiders Team, Stagecoach East Midlands
Safe Zone Bus, Xplore Dundee
Work experience for students with disabilities, Transport for Greater Manchester
Environment Award, sponsored by Volvo Bus
Environmental Improvements to Vehicles, First Bus
Buses Do Their Bit – Durham Air Quality Monitoring Area, Go North East
We think the World of Edinburgh, Lothian Buses
To 'planet Reading' and beyond!, Reading Buses
Inverness ElectriCity, Stagecoach North Scotland
Clean Air for Schools, Transport for Greater Manchester
Local Authority Bus Project of the Year sponsored by The TAS Partnership
The West Midlands Bus Alliance: A UK First, Centro and National Express West Midlands
Grasshopper Multi-Operator Ticketing, Aberdeenshire Council and partners
Elland Road Park and Ride, West Yorkshire Combined Authority and partners
London Bus Garage of the Year sponsored by Transport for London
Palmers Green, Arriva London
Brixton, Arriva London South
Putney, Go-Ahead London
Uxbridge, Metroline West
Hounslow Heath, RATP Dev London
Leyton, Stagecoach London
Making Buses a Better Choice: the Peter Huntley Memorial Award sponsored by Heathrow Airport
Two Stars in Two Months, bluestar
Eclipse – Driving Up Expectations, First Hampshire & Dorset
The Castles Express, Go North East
Leopard and Lion, Reading Buses
South West Falcon, Stagecoach South West
Cityzap, Transdev Blazefield
Goldline 212, Translink
The Award for Marketing Initiative of the Year sponsored by Passenger Transport
#harveyBus – 410/411 X-Factor initiative, Arriva Yorkshire
First Southampton Paints the City Red, First Hampshire & Dorset
New Mendip Xplorer Brand, First West of England
King's City, Stagecoach South
Busboost, South Yorkshire Passenger Transport Executive
Bus Start, Arriva UK Bus
New Horizons Award sponsored by Institute of Road Transport Engineers
CheckedSafe Walk Around App, CheckedSafe
Employee App, First Aberdeen
Nerve Centre Revolution, Go North East
The Transport for Edinburgh App, Lothian Buses
claret spritzer, Reading Buses
E-paper bus stops, Transport for London
Traveline GB Journey Planner, Traveline Information
Putting Passengers First sponsored by Euro Bus Expo
The Transport for Edinburgh App, Lothian Buses
West Midlands Safer Travel Partnership, National Express West Midlands and partners
Easylink, Nottingham Community Transport
Enabling tomorrow's customers today, Reading Buses
The Award for Sustained Marketing Excellence sponsored by Exterion Media
Go, Go, Go!, Go North East
Greener Journeys, Greener Journeys
Lothian Buses NightBus, Lothian Buses
Express City Connect, Stagecoach East Scotland
The 36 – Riding Redefined, Transdev Blazefield
Top City Operator sponsored by INIT Innovations
Arriva Merseyside, Arriva Merseyside
Lothian Buses, Lothian Buses
National Express West Midlands, National Express West Midlands
Nottingham City Transport, Nottingham City Transport
Stagecoach Merseyside and South Lancashire, Stagecoach Merseyside and South Lancashire
Translink Metro, Translink Metro
Top National Bus Driver: the Chris Moyes Memorial Award sponsored by Traffilog
Denis McMahon, Abellio Surrey
Karen Wilson, Arriva Yorkshire
Ian Walker, First Aberdeen
Michal Kudla, First Essex
Dave Forrester, Southern Vectis
Brian Liddle, Transdev Blazefield
Top Independent Operator sponsored by Wrightbus
Compass Travel (Sussex), Compass Travel (Sussex)
Courtney Buses, Courtney Buses
Ensign Bus Company, Ensign Bus Company
Prentice Coaches, Prentice Coaches
Uno, Uno Buses (Northampton)
Luke Rees Pulley Charitable Trust Award for Top London Bus Driver sponsored by Luke Rees-Pulley Charitabe Trust & Transport for London
Felicia Grazette, Abellio London
Helen Webster, Arriva London
Richard Pincombe, Arriva London
Nadine Allen, CT Plus
Dean Golding, Go-Ahead London
Peter Huttly, Go-Ahead London
Hirji Hirani, Metroline Travel
Terry Miles, RATP Dev London
Top National Bus Depot sponsored by Personal Group
Tamworth, Arriva Midlands & Shires
Gateshead Riverside, Go North East
Wolverhampton, Park Lane, National Express West Midlands
Fenstanton, Stagecoach East
St Andrews, Stagecoach East Scotland
Crawley, Metrobus
Top Shire Operator sponsored by Ticketer
Metrobus, Metrobus
Oxford Bus Company, Oxford Bus Company
Reading Buses, Reading Buses
Stagecoach East Midlands, Stagecoach East Midlands
Go South Coast, Go South Coast
Unsung Heroes Award sponsored by Backhouse Jones
Darren Jackson, Abellio Surrey
John Gordon, Go North East
Ricky Lennon, RATP Dev UK
Chris Vest, Reading Buses
Joe Somers, Stagecoach East
Young Manager of the Year sponsored by Chartered Institute of Logisitics & Transport
Alistair Timmis, Arriva Midlands & Shires
Matthew Elsey, First Essex
Sophie Moorby, Go North East
Stephanie Maher, National Express West Midlands
Dan Bassett, Reading Buses
Katie Wagstaff, Stagecoach London

This article appears inside the latest issue of Passenger Transport.
DON'T MISS OUT – GET YOUR COPY! – click here to subscribe!