Arriva aims to create an environment that brings the skills of its 30,000 UK employees to the fore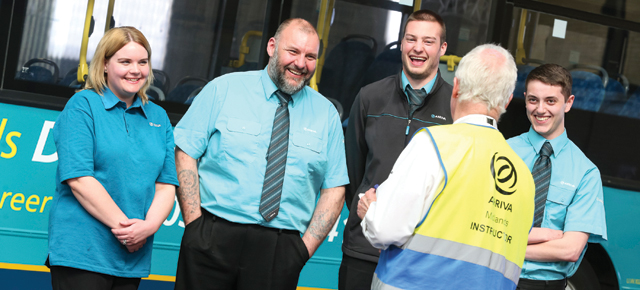 Arriva has over 30,000 members of staff in the UK
People are at the heart of any transport business and so identifying and developing the potential and talent of people is essential.
That emphasis is being placed at the forefront of things at Arriva, which is working to change some of the 'silo mentality' of thinking that has traditionally been associated with transport management in the UK. It means that the group is aiming to harmonise thinking between its bus and rail businesses in the UK, fostering a culture of one team.
"I've been with Arriva for three years now and my role spans across our UK business," says Rachel Baldwin, the UK human resources director. "Transport has been traditionally organised by sector, so there was little movement in people between bus and rail or vice-versa. But we are having more and more conversations about moving people and talent between the modes. Many skills are transferable and so it is right we approach things differently to how they were approached traditionally."
A key part of this strategy is the development of Arriva's people and Baldwin says that this takes in several broad strands. The recruitment of young people is essential for any business but it is particularly important for the transport sector. She believes that it is imperative that this issue is tackled and she points to the fact that this year Arriva has recruited more apprentices and graduate management trainees than ever before in a bid to ensure that the group's business in the UK has the right skills that are fit for the future. That commitment is perhaps best demonstrated by the number of young Arriva managers who have been recognised at the UK Bus Awards in recent years.
"We are also looking closely at developing the people who are already in the business as it is key to not only attract the right people but to develop and retain them once they are here," she adds. Historically the development of existing employees was tackled by each individual operating company. That meant that there was a patchwork of development schemes that perhaps lacked strong coherence that related to the wider Arriva group of businesses. Baldwin believes that it is right that this changes to become a much more unified programme that identifies people with the correct skills and abilities already in the business and creates the right environment for them to excel. "So we have over the last few years, developed and implemented programmes for our UK Bus and UK Trains businesses and now we are looking at developing people on a UK-wide basis, rather than a company or sector basis," she says.
Arriva's UK business, particularly the bus division, has been through a restructure over the last 18 months. Baldwin says that, among other things, this aimed to create new roles and positions that would help provide a strong foundation for the future. She also notes that this change led to a variety of people with different backgrounds, some of them from outside the traditional transport context, being placed into these positions. It was a programme that saw each individual's talents identified and then matched to a role. "We've created a real mix of people with different skills and experiences," Baldwin says. "We wanted to get beyond just thinking about traditional transport."
Meanwhile, Baldwin and her team have worked with colleagues from around the group's businesses to create Arriva's Values. They aim to bring Arriva's 60, 000 employees, across all 14 countries together under one set of common Values, fostering an environment where everyone works together. Here it is emphasised how the group's critical aim is to deliver great customer service; ensure that every Arriva employee does the right thing and that there is continual improvement that aims to think to the future (see below). It is, says Baldwin, the touchstone that aims to guide thinking in the business in the immediate future.
"This is what is at the heart of Arriva," she says. "This really builds on everything we've been doing. We have a pretty large business in the UK, but I think we can make a real difference by creating a culture where individual talents and skills come together for the common good. We also want to look at initiatives that individual teams create, put them under the microscope and closely examine them, and see if they will work or are transferable to other parts of the business, be that bus or rail. We have over 30,000 employees in the UK. I think that's a very unique resource that we can tap into.
"This is a fantastic time to be joining any part of the Arriva business – bus or rail. There is so much going on and all of our employees, in whatever role they do, can really make a difference in the organisation. We want people to be thinking about the difference they can be making locally in their business as well as the difference they can make across the organisation."
Those skills and experiences will come to the fore at another first – the group's first UK-wide management conference that aims to bring together senior management teams from across Arriva's business in the UK. Baldwin says that this builds on the divisional UK Bus and UK Trains conference and the larger pan-European management conferences that Arriva has held in recent years. There the theme of collaboration has moved on and been replaced by that of integration and interaction between the group's various operations across the continent.
"We want to get people to think UK-wide and this will bring together around 130 senior managers from the UK business," she adds. "We will be looking at those Arriva Values and determining how they can be rolled out and translated to all of our colleagues across the UK. It's also a chance for people to share ideas and look at how we can effectively utilise the resources at our disposal for the good of Arriva's UK operation as a whole."
ARRIVA AIMS TO INTEGRATE IDEAS
Rachel Baldwin joined Arriva in September 2013 as the UK's human resources director. An experienced HR specialist, Baldwin has a background in the fast-moving goods sector, an area that she says has some very strong parallels with the passenger transport sector. "Both are very people orientated industries, which are continually fast-paced and highly consumable," she says.
Baldwin adds that the decision to bring together Arriva's HR functions in the UK was very deliberate and aims to break down the silos that exist in the sector. "Ours is a business which is very locally-focused," she says. "We have 'virtually' pooled together the resources we have locally and centrally in an HR context and this has stimulated a joined-up way of thinking. It gives us a strategic direction.
"That means we can take a good idea that may work at one depot and share it around the group. Ideas can be very transferable."
JOB VACANCY: Area Managing Directors – Arriva
This article appears inside the latest issue of Passenger Transport.
DON'T MISS OUT – GET YOUR COPY! – click here to subscribe!