Zeta Automotive's EconoSpeed Connect system is offering operators the opportunity to cut emissions and fuel consumption by their bus fleets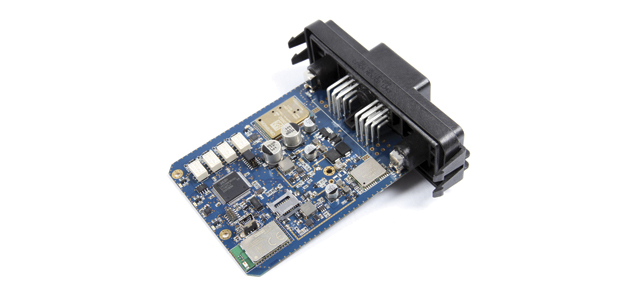 It's an age-old tale: a client likes the product so much that they purchase the company. That's exactly what happened in late 2013 when Arriva purchased a controlling stake in Zeta Automotive, a Bicester-based automotive technology company.
The reason for Arriva's purchase was Zeta's EconoSpeed Connect system, a little black box that sits between a bus's throttle pedal and the Engine Control Unit. The system regulates the acceleration of the vehicle, leading to not only reduced emissions and fuel consumption, but significant safety improvements and also reduced wear and tear on the vehicle.
With fuel savings averaging between 2% and 6% and a payback period of under 12 months, John Lawrence, managing director of Zeta Automotive, describes the system as a "no brainer" for bus operators.
Of course technology to solve some of these issues is not a new thing. Around a decade ago many large bus operators in the UK began to examine the potential offered by telematics technology. Commonly this led to the installation of a row of lights, from green to red, on the vehicle's dashboard that provided the driver with real-time feedback of their driving style in the hope that they would adapt accordingly.
Although initially effective, anecdotal evidence from some operators suggests that drivers soon slip back into their old ways of driving, ignoring the feedback offered by the telematics system. It led to a search for something different and, in Arriva's case, that quest led to Zeta.
"Telematics is a good technology," says Lawrence, "but the real issue is that we are relying on the driver to make changes, and that will vary over time. With EconoSpeed we can make it happen."
Simply put it means that the driver of the vehicle can 'put their foot to the floor' but the EconoSpeed system responds by only delivering acceleration to a predetermined level that is appropriate to that particular vehicle type. This is what delivers those savings in emissions, fuel and wear and tear.
"There are also other benefits," explains Lawrence. "The feedback we've had is that adds value by reducing harsh acceleration or braking and so it significantly reduces passenger safety risks."
Arriva is currently around halfway through the process of rolling out the system across its operations in both the UK and in continental Europe. It's a massive project that involves around 7,000 vehicles and pilot installations across the group have already suggested fuel savings of around 6% in Portugal and around 3% in Scandinavia. "It really varies from location to location," says Lawrence.
Installation begins with preparatory work by the Zeta team that aims to maximise the fuel savings from any particular depot location. This examines the vehicle types in order to establish the best profile for each of them in a bid to deliver the greatest possible savings. Critically, the majority of the major bus manufacturers have examined the EconoSpeed technology closely and it has won their support, meaning that it will not impact on vehicle warranties.
The EconoSpeed 'black box' is then installed into each vehicle. It's 'plug and play' technology and can be installed by depot engineering staff in around one hour for each bus.
"It's important to brief drivers at each depot as they will experience and see a difference in the acceleration profile of the vehicle," adds Lawrence. "There's a slight, but noticeable difference."
Although Arriva is involved in Zeta and has become a significant customer for its technology, Lawrence is at pains to point out that it is seeking customers for the technology from other transport operators outside of the group.
"We have the best of both worlds," he says. "Yes, Arriva have made an investment in the company, but in day-to-day matters we look and act like an independent company. Sure we benefit from things like shared services, and we'd be silly not to, but we are a standalone organisation and we're actively looking at new opportunities from customers outside the Arriva and wider DB group."
The partnership approach taken by Zeta in installing the equipment is being taken to the next level too. "We are looking at where next and that's where our customers are helping us," says Lawrence. "There's tremendous scope with the EconoSpeed technology. The equipment has both GPS and Bluetooth technology built in and there's a data feed using 4G internet technology. EconoSpeed has the ability to 'talk' to other systems on the bus using the CAN bus network, so it has the ability to monitor and report on other vehicle systems."
Lawrence adds that that close dialogue with the Arriva operations using the EconoSpeed technology is already presenting opportunities that can help reduce costs and reduce maintenance issues.
"It has the potential to assist with preventative maintenance," he adds. "Some of the latest cars have Bluetooth technology in the wheels that issue alerts if the tyre is getting a bit soft. There's no reason why that sort of thing couldn't be put on a bus with EconoSpeed monitoring both that and other vehicle systems.
"There are some significant opportunities offered by the technology too which could improve vehicle availability and reliability through the adoption of remote fault diagnosis."
The flexibility offered by EconoSpeed has been harnessed with a trial of Intelligent Speed Adaption (ISA) currently taking place on two London bus routes operated by Go-Ahead London.
Transport for London is sponsoring the trial as it has been actively looking at means to improve road safety in the capital. As the EconoSpeed box is fitted with GPS functionality it can be programmed for any given bus route and given data on road speed limits along that route. It means that the technology can detect where the bus is, examine the local speed limit and then monitor this with the actual vehicle speed, limiting the bus to the local speed limit.
"Say the bus is in a 20mph zone, EconoSpeed picks that up using GPS," explains Lawrence. "The driver pulls away from a bus stop or traffic lights or whatever and tries to accelerate beyond 20mph, but EconoSpeed intervenes, as it's also monitoring the vehicle's speed, limiting it to 20mph. The geo-fencing technology sticks the bus to the local speed limit.
"There are huge opportunities for road safety from that. Using EconoSpeed to reduce costs and emissions is one thing, but being able to play a potentially huge part in improving road safety is another."
Zeta is a small business, having just 14 employees, but Lawrence says that the company is responsive, perhaps best demonstrated by how the EconoSpeed technology has been adapted for the ISA trial in London. Other opportunities, through that close dialogue with operators, are being examined.
"We have a road map," says Lawrence. "There are priorities for the future and we want to bring in more resources to make some of our plans happen, but we are, at heart, a small but responsive team.
"We've seen how EconoSpeed can be a huge tool in not only reducing costs, but also emissions and fuel. The ISA trial only highlights what the technology can do for safety and that's really motivating for the team."
HOW IT WORKS
EconoSpeed Connect is connected between the accelerator pedal and the Engine Control Unit. It constantly monitors acceleration demand from the driver with the throttle pedal, as well as monitoring the engine and road speed of the vehicle via a Controller Area Network.
When acceleration is at an optimum level, EconoSpeed allows output to the ECU and as much throttle as the driver requests. However, if Econospeed detects that acceleration demand is (or is about to become) too high, it restricts acceleration to a predetermined level. This level is based on the speed the vehicle is travelling at the time.
The hardware inside EconoSpeed is able to read and replicate all commonly used throttle pedals in use today. Mechanical relays provide a hardware fail-safe pass-through, should power fail, or valid signals be lost. Speed inputs are read via the vehicle's CAN bus, which is set as 'listen only', so as not to interfere with other systems on the vehicle. EconoSpeed only restricts signals coming from the accelerator.
This article appears inside the latest issue of Passenger Transport.
DON'T MISS OUT – GET YOUR COPY! – click here to subscribe!