The bus manufacturer is looking to offer a variety of green bus technologies across its vehicle range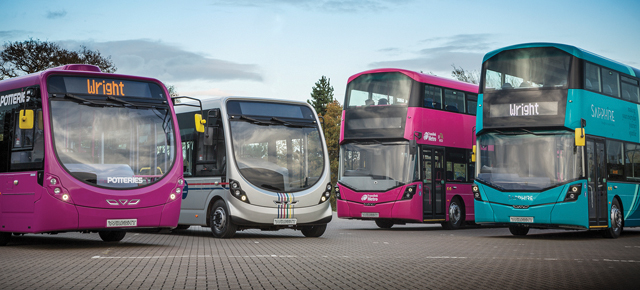 Ballymena-based bus manufacturer Wrightbus has confirmed that it is developing a new range of electrical buses, work on which is at an advanced stage with initial trials expected early next year.
The range comprises a series of modular concepts, which have been designed and developed by the manufacturer's existing driveline business unit. The aim is to provide bus operators with a comprehensive choice of green technology solutions, suitable for a wide range of applications.
The focus of the project is on the vehicle charging and battery technology, which are interchangeable within the module. The three different options under development are:
An overnight charging option utilising Nickel Manganese Cobalt batteries. It is anticipated that this platform, suitable for single deck vehicles, would result in a range of 150 miles or 18 hours of service;

An inductive power transfer (IPT) option utilising Lithium Ion batteries. Suitable for both single and double deck vehicles, power is transferred from in-ground charging coils. Charging time is less than 12 minutes and would result in a range of 135 miles or 17 hours of service; and

A conductive charging system utilising Lithium Ion batteries, with an infinite range and service, dependent upon charging stations. Power is supplied using an on-street pantograph system, fully charging the vehicle in less than seven minutes. This option would be suitable for both double and single deck vehicles.
Leading the electric bus projects is Wrightbus co-founder Dr William Wright. At a briefing about the project and other developments at the manufacturer last week, he said that different battery technologies were being investigated by Wrightbus to ensure that a robust solution was created that matched the needs of the requirement.
"Battery technology is moving and it is moving fast," he said. "I believe electric drive is the future.  We realise that the customer at the moment is very frightened of electric drives, so we need a repair system or people because a mechanic doesn't know anything about this sort of thing."
Continuing on the theme of battery technology, he said that batteries would eventually become economical enough to challenge any conventionally-powered vehicle. "There's what, 18 bus routes that go through Oxford Street in London," he said. "Just stand there today and smell. It's going to come. Maybe I've been wrong in the past and maybe I've been wrong again, but I'm gambling."
Meanwhile, despite these plans for a range of electric buses, Wrightbus has also announced plans for production in 2016 of its third generation 'micro hybrid' system.
The first generation vehicle, launched in January 2014, resulted in fuel savings of 7%. A second version in 2015 led to an additional 4% fuel saving and initial tests of the next generation vehicle are revealing futher fuel efficiency improvements that will reduce fuel consumption by a further 10%. The reduction has been achieved by carrying through the technologies from the previous two generations of vehicle and adding additional features, such as a third smart alternator to power new electric features, such as an electric air compressor, that reduce engine load and fuel consumption. The Daimler-engined product will also utilise the German manufacturer's automatic stop/start technology in the quest for further efficiencies.
Work is also continuing to develop 'mild hybrid' technology using a flywheel KERS (Kinetic Energy Recovery System) to capture kinetic energy from deceleration that is then transferred mechanically back to the wheels and used to accelerate the vehicle forward.
This 'Flybrid' system is being developed in partnership with Arriva, Productiv, Voith Turbo and Torotrak in a project that is being co-funded by Innovate UK. It is hoped that if proven, the Flybrid will be introduced across the Wrightbus range in the future.
"There simply isn't just one low emission solution," admitted Mark Nodder, the chairman and chief executive of Wrightbus. "It's clear, even in London, that there isn't one technology that will work for all of the routes there. Not even one battery technology will do. What we are doing is creating a modular architecture, so our chassis platforms will be common to our range of vehicles."
Nodder added that Wrightbus would "squeeze every last drop" from its range of diesel buses using micro hybrid and mild hybrid technology. "But we will absolutely stay and play a part in this whole electric vehicle revolution," he said. "We'll ensure that we have modular 'plug and play' systems so that we can work in every market."
This article appears inside the latest issue of Passenger Transport.
DON'T MISS OUT – GET YOUR COPY! – click here to subscribe!