Department for Transport appears out of the loop as Department for Communities and Local Government announces historic devolution deal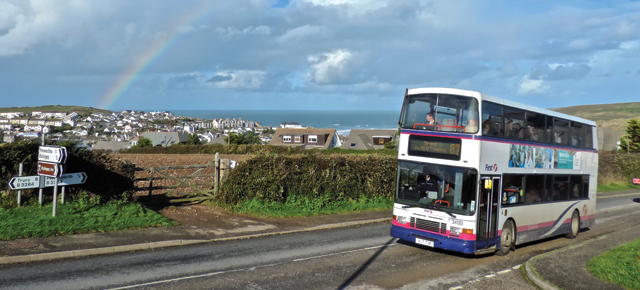 A First bus climbing up the hill out of Perranporth, Cornwall
The bus industry was caught by surprise by this month's announcement that Cornwall will be given control of bus services as part of a new devolution deal.
The deal, the first with a rural authority in England, was announced on July 16 by the Department for Communities and Local Government. Cornwall Council has expressed ambitions to take control of the county's bus network several times in recent years, but government support
for such a move was unexpected. It is also understood to have also come as a surprise to the Department for Transport.
It is the latest in a string of devolution announcements with major implications for buses. Last November, chancellor George Osborne announced a devolution deal with Greater Manchester that included support for bus franchising in the region (PT096). The Conservative party's election manifesto subsequently pledged powers to regulate buses for cities which accept an elected mayor.
Re-regulation of local bus services is opposed by all of the major bus groups. However, with the DfT seemingly out of the loop, they are struggling to make their case to government. "It's difficult to get near anyone who is close to the devolution agenda in government," Passenger Transport was told. "They have few advisors around them. It's not a traditional way of forming policy."
It's unclear how Cornwall will employ its new powers over buses. The devolution deal says that the council will receive powers to franchise all bus services in Cornwall. "This will ensure that an integrated transport system is delivered within pre-allocated budgets by December 2018,"
it states. "This will co-incide with the start of half hourly mainline railway services in Cornwall as part of the new rail franchise."
Related coverage in the latest issue of Passenger Transport:
We can deliver for you – Fearnley tells Cornwall
Managing director of First UK Bus believes he can persuade council to leave new franchising powers on the shelf and place its faith in partnership
Comment: This is all about building for the future
We intend to significantly increase bus patronage, writes Councillor Bert Biscoe
Is Cornwall right to pursue bus franchising?
Cornwall has been given the green light to take back control of it buses, but analysis of the county's network suggests that it's in relatively good shape
This article appears inside the latest issue of Passenger Transport.
DON'T MISS OUT – GET YOUR COPY! – click here to subscribe!