George Osborne has restated his commitment to give Manchester control over local bus services, and has opened the door for other cities to follow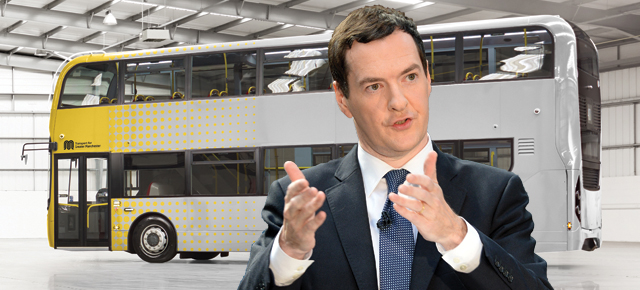 George Osborne and a visualisation of a TfGM-liveried bus
Chancellor George Osborne has opened the door for cities in England to get greater powers over local transport – if they agree to an elected executive mayor.
In his first speech since the general election, Osborne said that last year's devolution agreement with Greater Manchester's elected leaders would become the blueprint for England's city regions.
"We're giving the city control over transport, including buses," he told an audience in Manchester last week. In return for agreeing to an elected major, the city will also receive powers over policing, skills, housing and the £6bn health and social care budget.
He revealed that next week's Queen's speech would include a City Devolution Bill. This law would pave the way for Greater Manchester's devolution "and, importantly, other cities as well".
"It means by the end of this year the legal framework will be set so that any city can proceed to implement a mayoral devolution deal," Osborne explained.
This legislation would enable cities to bypass the current requirement to apply for Quality Contract powers under the 2008 Local Transport Act in order to take back control of buses.
Most bus operators oppose any reversal of the deregulation of local bus services, which the Conservatives implemented across Britain in the 1980s (except in London). Manchester wants to replace it with franchising, with bus operator contractors.
The Confederation of Passenger Transport, which represents bus operators, is urgently seeking a meeting with transport secretary Patrick McLoughlin to discuss the issue. McLoughlin, who has served as transport secretary since September 2012, was reappointed to the post in the wake of the election victory.
"The thing that is abundantly clear is that despite Patrick McLoughlin assuring operators that the Manchester deal was a "one off" … it clearly is not, and the powers will be available for any area, assuming they go for the elected mayor," a CPT spokesperson told Passenger Transport.
Commenting on the chancellor's devolution speech, a senior industry executive for one of the UK's 'big five' bus groups said: "The reality is that for the next five years we are probably going to have to get behind it.
"It could be that other regions come forward. City deals before the last election for South Yorkshire and Leeds were nowhere near as ambitious and it may be these places come back with a bit more ambition."
Meanwhile, CPT president Bill Hiron has said that support for London-style bus regulation from Ian Mack, managing director of West Midlands-based The Green Bus, is misguided. In the last edition of Passenger Transport (PT108), Mack said franchising was "the only way forward" for the West Midlands and that small, independent companies, like his own 35-vehicle firm, could prosper under such a system.
Hiron, who is himself managing director of an independent operator, Essex-based Stephensons, believes that smaller companies are squeezed out of contracted markets, like London, by "the level of bureaucracy, cost and time commitment involved in preparing a bid".
And the loss of a contract is more likely to result in closure for smaller firms, he warned: "Do you keep your staff on just in case you manage to get some more work before too long? What do you do with your vehicles?"
However, Mack responded: "The starting point for the CPT's thinking may well be what effect proposed changes may have on bus operators. That is not the question."
He added: "There can be little doubt that the economic landscape for bus operators will change in some parts of the country. Bus operators would do well to pack a copy of the excellent Who Moved My Cheese? (Amazon, £5) in their holiday suitcases. Resilient firms plan for change and adapt accordingly."
This article appears inside the latest issue of Passenger Transport.
DON'T MISS OUT – GET YOUR COPY! – click here to subscribe!