Network Rail  must recruit more women and ethnic minorities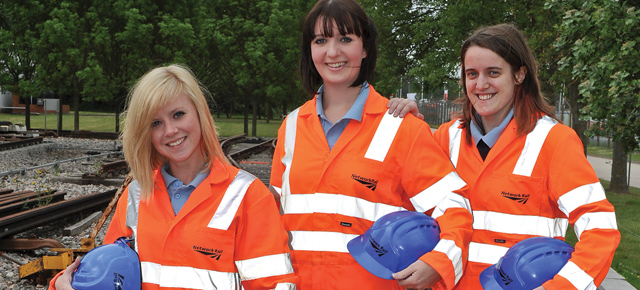 Network Rail apprentices. Pictured in 2011
Network Rail chief executive Mark Carne has called on the rail industry to target significant improvements in workforce safety and the recruitment of more women and ethnic minorities as part of a major culture change programme. He said a different approach to these issues should be seen as  an essential part of the industry's strategy to deliver consistently high levels of punctuality and remedy recent declines in performance.
In a speech to rail industry leaders, Carne highlighted that while the UK industry has the best passenger safety record in Europe, 600 railway workers each year are injured so badly that they do not return to work the next day. The figure is 10 times the level in the oil and gas industry where he previously worked.
"That means over 500 of our people are getting hurt every year, well over one a day, because our work practices have not kept pace with comparable heavy engineering industries," Carne said.
Too often, he considered that injuries are being caused by industry executives focusing on performance to the detriment of safety, yet this culture was actually having the impact of adversely affecting punctuality.
"I know that if we focus on what it takes to do things safely, performance will follow," Carne said. "After all, to do a job safely, it must be well planned, be carried out by competent, motivated people, be well-led, they must use the right equipment in the right way. All the ingredients of high performance … right first time."
He also called for the industry to take positive action when recruiting to address the low proportion of women and ethnic minority staff in the workforce. He argued that doing so would help create a culture which would deliver greater levels of innovation and help individuals achieve their potential.  At Network Rail, only 14% of staff are female. He recalled that increasing the number of women in the oil and gas industry had been a major influence on reforming the "macho and frankly unsafe culture".
"There is now a proven correlation, across multiple sectors and geographies, between diversity and inclusion on the one hand, and innovation and high performance on the other," Carne said …"Diversity and inclusion aren't just nice-to-haves – political correctness. They are powerful tools to help any organisation improve its performance."
This article appears inside the latest issue of Passenger Transport.
DON'T MISS OUT – GET YOUR COPY! – click here to subscribe!