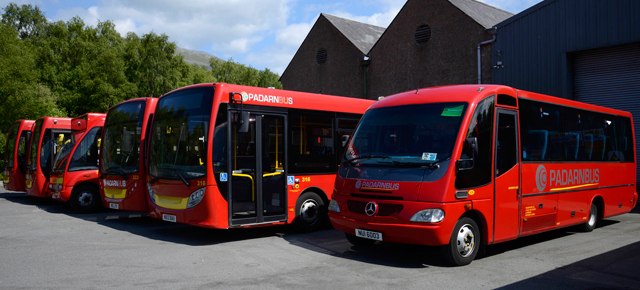 Offer to buy firm from Barbados-based company was rejected
Public transport into Snowdonia national park is reduced this summer after local independent Padarn Bus entered voluntary liquidation on May 30.
An offer to buy the company and continue to operate from its Llanberis base was made on behalf of an internationally-backed company based in Barbados, but the offer was rejected. Island Fortitude Incorporated already owns several coach and bus companies in the UK, including Baker Bus in Staffordshire.
Insolvency specialists Baker Tilly said Padarn's directors had explored all other possible options before deciding to place the company into liquidation. "Throughout the past month the directors together with their advisers have been working closely with all stakeholders – including the councils, Finance Wales and the Welsh Government – to try and find a way to preserve the business, but despite their best efforts this was, ultimately, not possible," said a Baker Tilly spokesman. He declined to comment on the offer from the Barbados company.
Finance Wales uses Welsh Government and European Union funding to help small and medium Welsh businesses. A spokesman said: "Finance Wales can confirm that it invested in Padarn Bus Ltd, but cannot comment on the details of its investments as these are commercially confidential."
Gwynedd Council said it had been aware of the interest in taking over the company as a going concern, but the discussions were a matter for Padarn's management and prospective buyers. "Whilst we cannot comment on the position of Finance Wales in relation to this matter, we would stress that it was not the council's responsibility to accept or refuse any commercial proposals made to Padarn Bus Ltd."
Padarn Bus, which acquired most of Llanberis-based KMP in 2009, was operating on about 40 routes before its liquidation, which was announced the day after police said they had arrested a man, aged 44, and a woman, 28, after allegations of fraud.
More than 80 people lost their jobs at Padarn, but some were quickly re-employed by other bus operators to help resource new services to replace Padarn workings. Padarn had operated commercially on several corridors, including as the sole bus operator to Llanberis from the major tourism centre of Caernarfon and the railhead at Bangor. Gwynedd Council is funding replacement services on both routes but with frequency halved to hourly (Caernarfon) and
two-hourly (Bangor).
Llanberis has a significant tourist trade, with local attractions including Snowdon, the National Slate Museum and Padarn lake. Snowdon Sherpa services are also running at diminished frequency as a result of Padarn's liquidation, with only one morning working to Llanberis from Betws-y-Coed.
This article appears inside the latest issue of Passenger Transport.

DON'T MISS OUT – GET YOUR COPY! – click here to subscribe!