Former Brighton & Hove boss urges bus industry to pay more attention to the details
Roger French retired from his role as managing director of bus company Brighton & Hove earlier this year. During his 18 years in charge of that company, he earned wide respect for his focus on customer service. His passion for the industry appears undiminished since his retirement, however. French has spent the past six months sampling bus services across the country – and he believes they could be much better.
Addressing a CILT debate on the future of buses in London earlier this month, French claimed that in his eyes 80% of the industry is "mediocre, average, nothing really to write home about", 10% is "brilliant" and the other 10% is "absolutely appalling" (a full report can be found in the latest issue of Passenger Transport magazine).
French told the audience of passenger transport professionals: "If you think I am being unfair with my mediocrity tag, I urge you to put your smartphones and tablets down, stop sending emails and texts, forget the budgets, the KPIs, the spreadsheets, the dashboards, the meetings and get out there.
"There are far too many examples around the country of a complete lack of attention to detail, as though no-one with any responsibility or interest is looking at how things actually are at bus stops, bus stations, on-board vehicles, or the service quality."
To illustrate his point, French then displays a selection of the "horror file" of photographs that he has compiled over the past few months.
Providing a running commentary on the pictures, he said: "The main departure point outside York station, a major tourist attraction…
"And these are the main bus stops near Caernarfon, another tourist spot…
"Personally, I'd rather be confused in Bridgend than not have any information at all…
"This is a timetable case in a Leicester suburb…
"No wonder the residents are fed-up! I took that photograph in July 2012, I went back there this July and the same thing was still there. It has been changed now because I mentioned it to a young bus manager who has has gone to Arriva, and within a day he had it changed…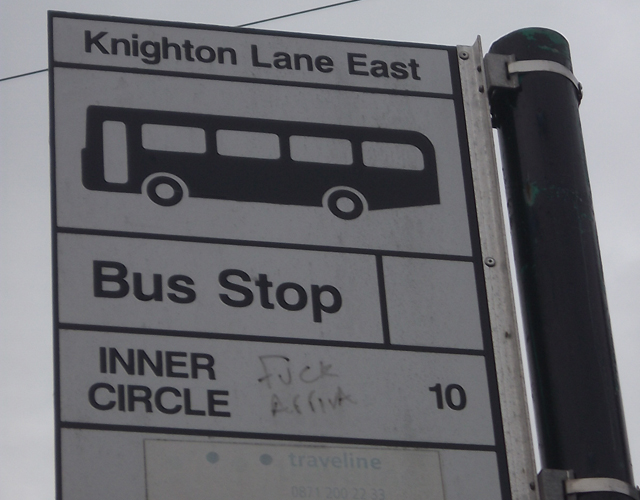 "Unattractive messages displayed in Exmouth bus station…
"And don't lose a copy of Nuts magazine because in Truro it will cost you £2 to get it back. In fact, it will cost you £2 to get anything back in Truro! £2 for everything – what's the point in that? Just say it's £2…
"Mind you, that's if you can find the travel office open. Travel offices – why do we have them? You have to buy a ticket in Northampton by 3.45pm, and then not on a Saturday or Sunday….
"What's wrong with Wednesdays in Newcastle?…
"And it's no better on board buses. You travel on buses to see out of them, otherwise we might as well have vans…
"Attractive liveries, but if you use contra-vision to see the beautiful sight as you cross the River Humber, what's the point in it? And it's right by the best seat on the bus?…
"Cove panels that don't stick…
…and those that are posted any old how, they create such a poor image…
"And why is it we are obsessed with incontinence…
…Chlamydia…
…drug abuse…
…child abuse…
"Some managers haven't realised that modern, new buses don't have cove panels any more, but they haven't told the bill stickers – they end up on the roof! You can't read them…
…just as well probably…
"And the comfort of our passengers seems to take a back seat, or in this case the front seat. No-one has given any consideration to me who took an hour to sit on that bus from Manchester to Bolton. Luckily, no-one was sitting next to me…"
French concluded: "If we aspire to be compared to the best in class retailers, we've got to get much better than this. We've really go to get our act together at sorting out the detail in the way our services are presented and sold. To use the perennial comparison – it's not rocket science. It's pretty easy compared to the big stuff we're pretty good at."
And finally, he offered some photographs of TrentBarton's Spondon Flyer as an example of how to do things possibly…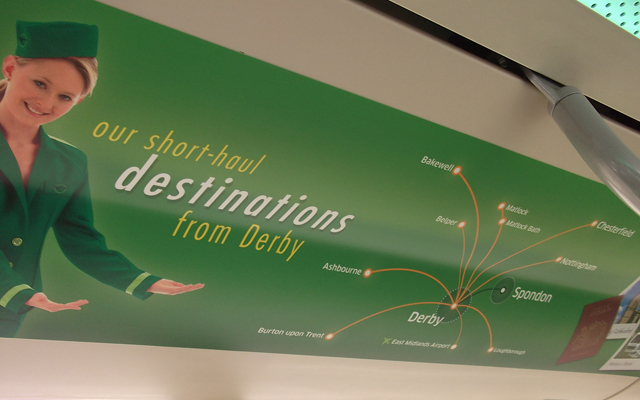 Further coverage on Roger French's presentation appears in the latest issue of Passenger Transport.
DON'T MISS OUT – GET YOUR COPY! – click here to subscribe!