Transport data handling specialists ITO World marks opening of new headquarters in Ipswich
Growing technology business ITO World, specialists in handling complex transport data, have officially opened a new headquarters in Ipswich.
Ben Gummer, MP for Ipswich, who attended a special event on June 7 to mark the opening, declared ITO's mapping and visualisation work as "stunning" and said the company was leading the data revolution whilst helping East Anglia become the technology capital of England.
ITO created an art show of its transport data visualisations to illustrate the power of its work for guests at the event, who included transport clients and media. The new office also includes a 'tech space' for those interested in open data and its innovative uses. ITO will be using the space to hold regular events.
Describing himself as a "map fanatic"and finding the artwork "complete heaven", Gummer said: "Maps are of vital importance politically, socially and for commerce. ITO World's visualisations are profoundly important and incredibly beautiful."
Peter Miller, co-founder and CEO of ITO World, said: "We are in the midst of a technological and data revolution and ITO is at the forefront, serving data to around half the people in half the world every month.
"We are delighted to confirm our long-term investment within Ipswich, and encourage others from within the sector to see this region as a breeding ground for innovative technology SMEs."
The company, which now employs 10 people, is recognised for its expertise in handling and making sense of large and complex data sets and are leaders in the use of open data. Their services include the creation of maps or videos which visualise data patterns and trends and help clients (in particular transport professionals) to make informed decisions. For example, ITO World's expertise has enabled bus operator EYMS and Norfolk Country Council to process attractive roadside bus timetable displays using a fast, automated system (PT025).
Most recently the ITO team contributed to the Channel 4 documentary series 'Human Swarm', which illustrates how vast amounts of publicly available information are now used by major retailers and other companies to monitor and predict human behaviour.
ITO has developed its own analysis tools for OpenStreetMap, the free worldwide map, created by members of the public, to enable it to take publicly available data (in particular in the transport field) and convert this into meaningful information. It can show any type of transport information (e.g. road speed limits or railway networks) or illustrate many other types of information, for example land use, population or demographic data.
It also produces stunning digital animations to visualise geographic and geospatial data. When the ash cloud crisis hit in April 2010 ITO captured the flight data for Western Europe and produced a visualisation to illustrate the return to normal service as the ash cloud lifted. The video went viral and clocked up 750,000 views in a week. Data visualisation projects have also been undertaken for the World Bank and for the Department for Transport.
ITO's work has been widely used by national television and news media including BBC, The Guardian, The Daily Mail, The New Yorker and Wired Magazine
Pictured above: Peter Miller, CEO of ITO World (left) and Ben Gummer, MP for Ipswich (front) at the opening of ITO's new Ipswich office
ITO visualisations:
London Bus Fences: The 'fences' rising in this image represent the total number of buses using each road in a day. It shows clearly the importance of corridors such as Edgware Road. Map data ©OpenStreetMap contributors; schedules NPTDR.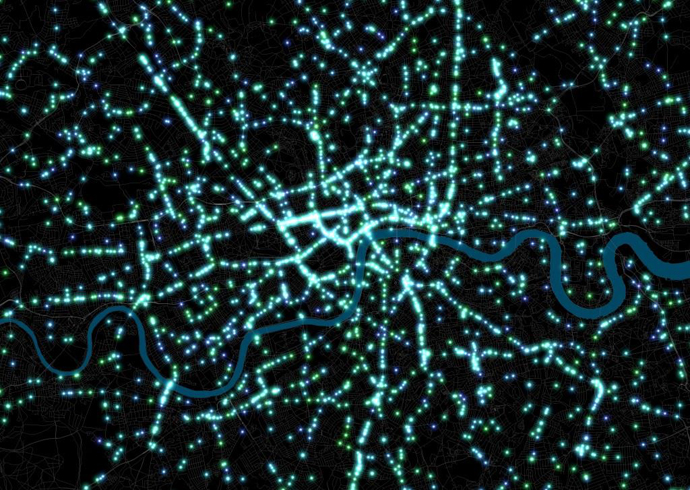 Bus Glow: Each point of light on this image represents a bus travelling in central London at noon on a Wednesday. Map data ©OpenStreetMap contributors; schedules NPTDR.
DON'T MISS OUT – GET YOUR COPY! – click here to subscribe!